Run no; 911 (Although not in the same league this was a bit of a 9/11 also.)
Hare: Iron Lady
Location; Utelle, over the hills and far away….
(If you are interested in what cultural delights you missed. http://www.vesubian.com/utelle/madone-utelle.htm, Ed.)
Scribe; Clair Voyant(Where was she when we needed her, Ed.)
What follows was supposed to be a run report. However, if you were watching the Tour de France, which was taking place on the other side of the hill the previous day,you will have observed the race being stopped by a large dumping of solid rain, followed by a landslide across the road. Although not racing, our route was curtailed by the Direction.
Therefore, as Spock would say, "It's life Jim but not as we know it ."
And Iron Lady, "It is a Hash but not as we know it."
Read on all will be revealed.
On our side of the hill we had huge electrical storms, boocoorain and impressive flashes of lightning, most of Saturday and into Sunday morning.
It was still raining as I left the coast to drive North, up into the hills behind Nice.
As I approach our start point ,Utelle, I drove past Duranus. Now, I know my French is not good, but I do know "Dur," means hard and I suspect you all know what Anus means.Ohps, I hope that is not a portent of impending trail conditions.
Up the Vesubie valley and turn violently uphill, to the village, into the car park to be met by the total pack for the day.
For those of you who saw the film we were, "The Magnificent Seven."
For us up there it was more of a case of Enid Blyton's, Secret Seven.
I expect by now you will have seen Wet Patch's photographic recording of events so what follows is my version.(Get on with it, Ed.)
The Hills are Alive with the Sound of Music, Julie Andrews. The hills are alive with the sound of expletives, Padre, Wet Patch and Supermarket Trolley.
I was informed they were not swear words. They were sentence enhancers.
As Iron attracts lightning, Iron Lady said she was not going to risk pre-setting the trail whilst a storm and a lightning display which put the Cannes.
Firework display to shame was raging, she therefore waited until we arrived to give us directions to the beer stop.Suffice to say there was a slight, (Slight?) misunderstanding in the translation.
The village is at 800 metres.
We start off going up.
Choice of trails……misunderstanding, wrong choice, next junction 950 m, another choice which by now did not matter as we were playing Russian Roulette with six bullets in the chamber.
Signpost for 1,220m….
up to the next one at 1604 m,
Photoshopped! – ed
(Now will you believe we were actually there?)

still no sign of, "The Madonna with the Big Boobies."
https://www.bbc.com/news/uk-england-bristol-46397261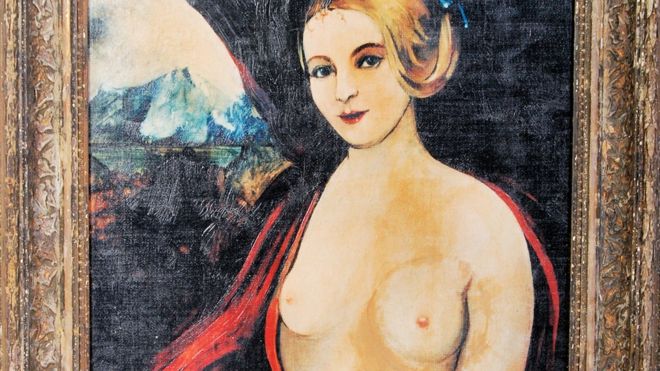 O.K. we give in. We were nearly at the top of this when we surrendered.
A phone call to the Hare establishes we are on the wrong summit, on the other side of the valley to the beer stop.

A quick run back down to the start point for a beer then and give the Beer Stop a miss.
It is surprising how long it takes to run down the side of a mountain for an 800m vertical descent.Also, no time to look around.

Circle
An announcement of the sad, early departure, to the Great Circle in the Sky, of Darth Vader with a moment of quiet introspection and reflection.
And Down Downs were earned by ;
Hare; Iron Lady
No Mug and adding to the planets destruction;
The Duchess of Cambridge, Sadist, and Iron Lady.
Missing the trail; Wet Patch, Super Market Trolley, and Padre.
Extra devotion to duty as Beer Master; Farty Bum.
Shit of the Week award…….. two nominations, Sadist and The Duchess, as they were the only two to follow the correct trail, even if it was only the Walker's markings.
As we were not there we gave them both a chance to nominate a candidate.
The Duchess nominated Sadist as he had not been awarded the honour for some time.
Sadist nominated The Duchess for a "Terminological Inexactitude".
He had accused him of not having won it for some time, but as Sadist pointed out he did in fact win it at the last Hash.
Therefore the proud winner of this prestigious award was The Duchess of Cambridge.
As my tracker informed me we had moved nearly 13 kms. and calories burnt were in excess of 3000, it was straight into the restaurant to replace most of them with;
Courgette flowers in batter as a starter, which everyone chose.
The Chicken dish with Girolles and Roast Potatoes. Again chosen by everyone.
And to finish a mixture of home made yummy desserts, that is except the Ice Cream choice.

I feel sorry for all the Vegans in a situation like this……..Eat Sprouted and Fermented Plants , Drink Plant Milks and Yogurts, and be Merry for tomorrow we die.
And sorry to inform you Pilchard, "Forbidden Flesh Weekly," is a vegetarian magazine. And their new perverts web site; "Quorn Hub."
Quick Quiz!
Who said; "It is bad enough the Grandchildren being French?"

And then, who said, when informing her husband she was going to a Funeral on Monday, he said,
"Don't you have to be dead for that?"